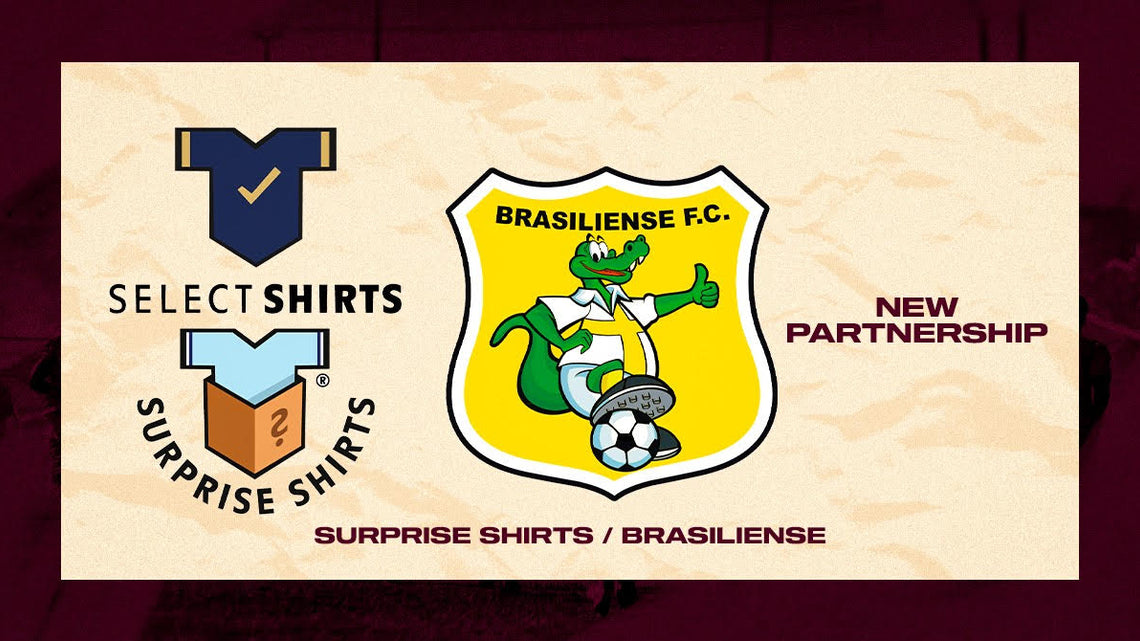 Official Partnership - Surprise Shirts & Brasiliense FC
Surprise Shirts is delighted to announce a new partnership with Brazilian professional football club, Brasiliense FC. The former Série A side now compete in Série D, the Brazilian fourth tier. 
This partnership will see Surprise Shirts become the exclusive retailer for Brasiliense shirts, outside of Brazil. Brasiliense shirts from the current season are already available in Surprise Shirts mystery boxes, whilst the shirts will also be available to purchase directly from www.selectshirts.co.uk. 

Louis Jones, founder of Surprise Shirts said: 

"We're absolutely delighted to partner with our first professional football club, Brasiliense FC. Our customers will certainly love the stunning range of the club's shirts, especially those including the club's iconic alligator mascot. 

It is a real privilege to work alongside the club, to help grow the club's reputation & fanbase outside of Brazil. In particular, we'd like to thank Club President Luiza Estevão, for her incredible support of Surprise Shirts. We look forward to working together going forward and cannot wait to reveal the unique opportunities it will provide to our customers & monthly subscribers."

Luiza Estevão, Brasiliense FC President followed up with:

"I have been a huge fan and subscriber of Surprise Shirts for close to a year now, and am absolutely delighted at this opportunity for the club to be a part of something I am so fond of. Having an internationally based retailer for the first time in the history of our club is something we've always dreamed of and is now coming true.
I truly hope that Surprise Shirts subscribers enjoy our products as much as I do, whenever I open a mystery box and find a brand new and unique shirt inside. It's something I look forward to every single month, and it is my pleasure to share my own shirts, from the club I love, with the rest of the world. Huge thanks to Louis Jones and the rest of the Surprise Shirts team, for making all of this a reality!"
Thank you to all at Brasiliense FC for their cooperation. #BrasilienseFC

---