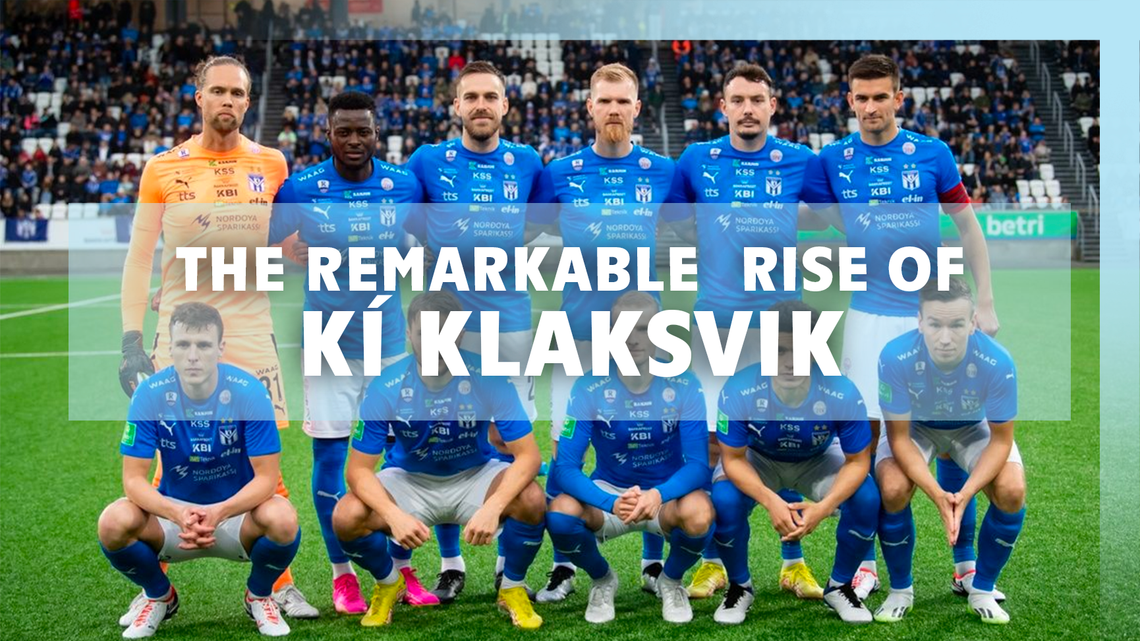 The remarkable rise of KÍ Klaksvik
If you've spent time on social media lately, you'll likely have heard a bit about KÍ Klaksvik. With the Faroese club doing its best to rock the landscape of European football via qualification for UEFA's continental competitions. But how much do you really know about the remarkable rise of Klaksvíkar Ítróttarfelag?
To put KÍ's European rise into context, it's important to understand a little bit about football in the Faroe Islands. Technically a part of Denmark, the autonomous territory floating in the mid-Atlantic between the tip of Great Britain and toe of Iceland, is home to just 50,000 people. Unlike the mainland, which boasts a comparatively mammoth stature on the continental stage with clubs such as Copenhagen and Brondby IF regularly competing in UEFA's tournaments, no Faroes side has ever made it to the group stage of a European competition. In fact, they rarely ever come close. 
So eight years ago, when KÍ announced its goal to "become the first Faroese club to participate in the group stage in a European competition," most on the island took little notice. Understandably so when you look at the facts, the Faroese Premier League sits 39th in UEFA's league coefficient, below the likes of Lichenstein and Kosovo. 
KÍ's chances of achieving that goal this season weren't just slim, they were almost non-existent. After the draw had been made with Hungarian giants Ferencvaros confirmed as first-round opponents, and Swedish champions BK Hacken awaiting the winners, Ferencvaros posted on social media "The Swedish Champions await us in the next round… because it is certain we are going through." But after being held to a 0-0 in the first leg, Klaksvig stunned the 23,700 capacity Ferencvaros Stadion by running out as 3-0 winners and took the first step on their odds-defying journey. 
Because even with one newsworthy giant killing that many would consider one of the greatest moments in Faroese football, KÍ's mission statement remained the same. So when Swedish champions BK Hacken came and left the Faroe Islands with only a 0-0 draw, whispers of the impossible began to swell.
And in the Swedish city of Gothenburg, KÍ announced right from the off, they were there to win. A frantic game followed, with each side trading the lead until into full time and beyond, until after 120 minutes and three goals each, penalties awaited. And after four penalties and three conversions each, KÍ's Swedish shot-stopper saved the host's fifth spot kick to give his side match point before Vegard Forren buried his spot-kick and left Europe speechless.  
That victory meant that at a minimum, KÍ had secured a place in the UEFA Conference League group stages. But should they beat Norwegian side Molde and advance to the qualification play-off round, the Champions League would be within touching distance. It briefly looked possible too, with the Faroese fairytale reaching its peak after a 2-1 victory to KÍ at home. But the Norwegian side's second-leg comeback that ended in extra-time after a 112th-minute winner scuppered a dream tie against Turkish behemoths Galatasaray. 
After dropping to the Europa League play-off, FC Sheriff stood between the Faroe Islands and the chance to face the likes of Liverpool, Roma, or Sporting Lisbon. A 1-1 draw in the first leg meant everything was to play for in Moldova, and it wasn't until Armel Zohouri's matchwinner in the 74th minute that defeat was sealed for the ultimate underdogs. 
But for KÍ and the Faroe Islands, the journey has just begun. A first foray into proper European competition in the region's history, the giant-killing dream lives on with LOSC Lille awaiting in the group stage. But for many, KÍ's job is already complete. The face of football on the Faroe Islands is forever changed, regardless of the outcome in this footballing miracle's next chapter. 
But why are we telling you all this? Well, we've been so enthralled by this miraculous tale, we wanted to get involved. We couldn't miss the chance to support KÍ Klaksvik on their European tour, so we've got one of their shirts up for grabs!
Keep an eye out for our special promotion coming soon, where someone who orders will receive Klaksvik's incredible new European Competition shirt.
Follow us on X/Twitter and sign up to our mailing list so you don't miss it!
---