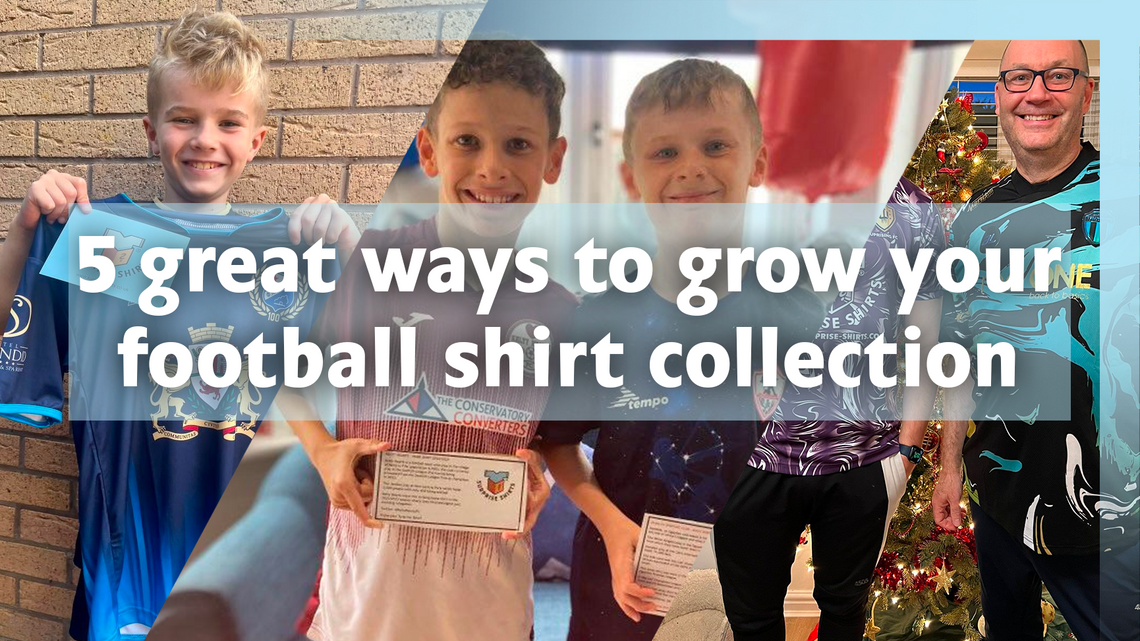 Five Great Ways to Grow Your Football Shirt Collection!
So you want to start building your football shirt collection but don't know where to start? Fear not, we're here to give you our tips on how to find great shirts at affordable prices. Take a look at some of our suggestions below.
5) Charity Shops
If you're looking to get your steps in whilst securing a cheap football shirt, charity shops are the way to go. They might not be as well-stocked as they used to be, but if you're willing to put the work in and spend an afternoon or two prowling the high streets, we've no doubt you'll strike gold eventually and find some classic football shirts.
4) eBay
If you're not up for spending a whole day wandering the streets, eBay is a great alternative and the football shirt hunting can be done from the comfort of your home. You can get all the bargain-searching buzz but without the physical effort by scouring one of the biggest football shirt collections anywhere in the world. Brand new soccer jerseys or cheap retro football shirts, someone somewhere has a reason to sell, and if you're patient enough, you'll be frantically clicking "add to cart" to nab a steal soon enough.
3) Social Media
That's right, you can scroll social media and bolster your collection at the same time. Facebook and Twitter/X are both teeming with groups of aficionados looking to offload some of their replica shirts. From trades and raffles to straight sales, social media can be a great way to meet like-minded football shirt fans and snag a few bargain football shirts. The football shirt community is huge, especially on Twitter/X!
2) Brand Outlets
If second-hand isn't your thing, brand outlets are a great place to go for football shirt sales. All the biggest manufacturers can be found in outlet stores across the country offering you the chance to buy brand new shirts for a fraction of the retail price. If you're willing to wait a few months after release to secure that new Real Madrid jersey or a Liverpool shirt, head down to an outlet store later in the year and save yourself a fortune.
We love using the methods above to find quality football shirts, but there is no easier way to increase your collection and have a great time doing so than with our mystery shirt boxes. Because nothing beats the excitement of not knowing what you've got until the very last second! Order a single box or join our subscription service and sit back in anticipation as we ready your brand-new shirt. With our mix of high-profile releases and eye-catchingly unique designs available for just £35.99 (£26.99 in child sizes), you can guarantee a top-quality kit for a reasonable price. Check out our reviews and see what some of our happy customers received!
So those are our suggestions if you're looking to increase your collection or get started in the world of football shirts. If you've found any bargains or just want to show off your collection, let us know on social media!
Facebook: Surprise Shirts
Twitter/X: @surpriseshirts
Instagram: @surprise_shirts
Written by Zac Welshman
---