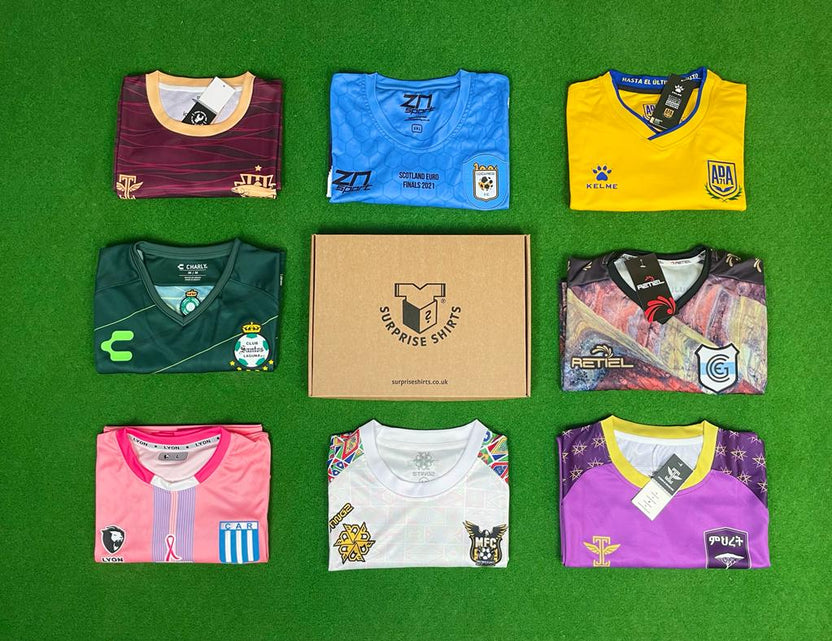 Frequently Asked Questions - Surprise Shirts
As you might expect there are a number of questions that are often asked by our customers and so we thought it would be useful to write a blog detailing the most popular.
Q1 - Can I please avoid a team from my own country?
Without doubt this is the most frequently asked question, and one where we suspect the confusion might put some people off the Surprise Shirt concept.
We will never, in any circumstances, send you a shirt from a team in your domestic country unless you specifically ask for one.

We learnt very early on in our journey that this is a recipe for disaster. So a United fan won't get a Liverpool shirt and vice versa. It just won't happen!
Q2 - Is there a risk that I'll get the same shirt you've sent me before?
No this should not happen. We log every customer order on our CRM database and so we are aware of any previous orders in your name. The only time this might be a problem is if someone has purchased a Surprise Shirt for you, that way we might not make the connection. If this happens just let us know this in the 'what to avoid' box and we'll then add this to your customer record.
Q3 - Is there a way I can tell you which teams/countries/colours I wish to avoid?
Yes, absolutely. There is a free text box at checkout which asks you this very question. Simply tell us what you want us to swerve and we'll make sure we take this into account when choosing your Surprise Shirt.
Some of our customers use the Shop App and we think that there might be an issue using this purchase route where you don't get to see this free text box. If that's the case just drop us a line when you order and we'll add it to your notes for you.
Q4 - Can I tell you what I want, rather than what I don't want?
Technically no as this goes against the whole Surprise Shirts concept. Some customers sometimes say they want shirts from specific leagues, although we will always try to accommodate where we can, this is often too specific and cannot be guaranteed.
Customers sometime ask for a specific shirt. We have started a new service where we will consider this, if the shirt is available in your required size, but to guarantee a shirt there is a £5 premium on top of the order, on the basis that this goes against the concept of our Surprise business model.
Q5 - Are your shirts genuine?
Yes. All of our shirts are brand new, either with tags or bagged. Very occasionally we come across some shirts that are brand new, without tags. In these instances we can verify the shirts are legitimate and not used if ever required.
Q6 - Where do you get your shirts from?
Clearly our sources are commercially sensitive but we do have contacts and relationships all over the world. We pride ourselves on sourcing great shirts from all four corners around the globe and we are very excited about developing new relationships, and as such great new shirts, as our business continues to grow.
Q7 - Who are you guys?
We are a family business set up by Louis (now 17). He runs the business full time with Rob (Dad), Uncle Martyn (Operations), Aunty Anna and Kellie (Mum) supporting our admin needs, and last but not least Grandad Mike (Procurement).
---