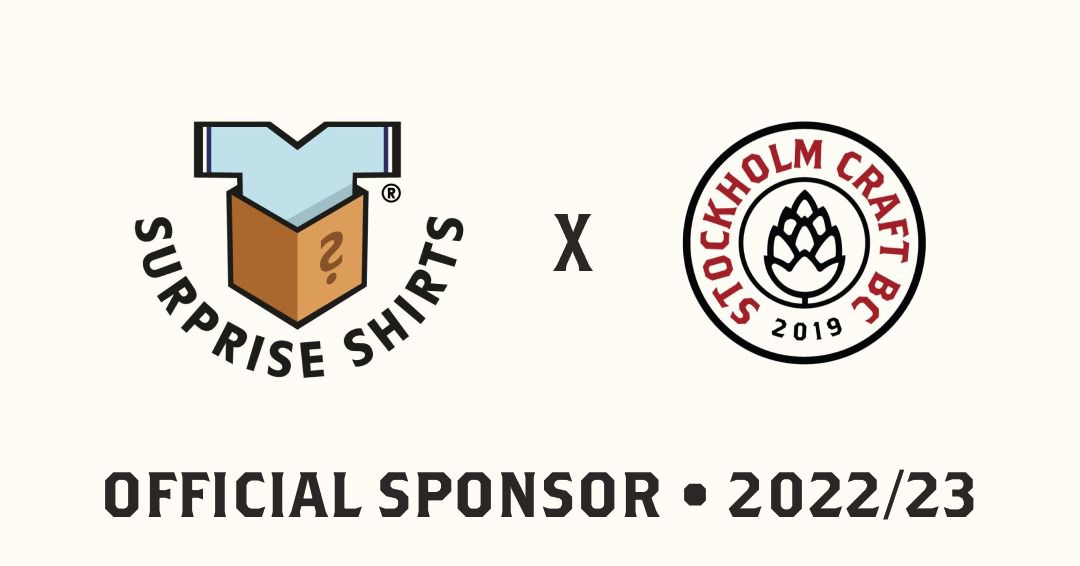 Surprise Shirts - Official Sleeve Sponsor of Stockholm Craft Ballclub
Surprise Shirts is delighted to announce that we are the official sleeve sponsor of Stockholm Craft Ballclub, who will be competing in the Swedish 7th tier in the upcoming 2023 campaign!
SCBC's shirts will feature in Surprise Shirts mystery boxes from today onwards. The shirt will also be available to purchase from Surprise Shirts in a 'sold as seen' capacity (rather than a mystery box) by the end of November.
The stunning design, produced by Philadelphia based manufacturer Icarus, features the Surprise Shirts logo on the right sleeve.
Chris Mitchell, Founder of SCBC had the following to say.
"All of us at SCBC are buzzing to partner up with Surprise Shirts for the coming season and on a personal level I'm very grateful to Louis, Rob and the whole Surprise Shirts family for sponsoring the new home kit.

From the moment we first connected on Twitter it's been a pleasure to work together and I'm sure this is just the beginning of a wonderful journey which will see many a success in the future.

Our club is still young (which can't be said for some of the players) so this support really means a lot and gives us a unique chance to spread the SCBC name around the globe. It's incredibly exciting to think that a small club like ours might have people in multiple different countries cheering the club on, whilst wearing their very own shirt.

To any new fans, tell a friend about the little club in Sweden you got a shirt from - we'll do our best to make you proud on, and off, the pitch."
It goes without saying that we are incredibly proud to partner with SCBC & we cannot wait for what the future holds with this partnership...
Look out on our social media pages for pictures of customers wearing their SCBC shirts, very soon!
---