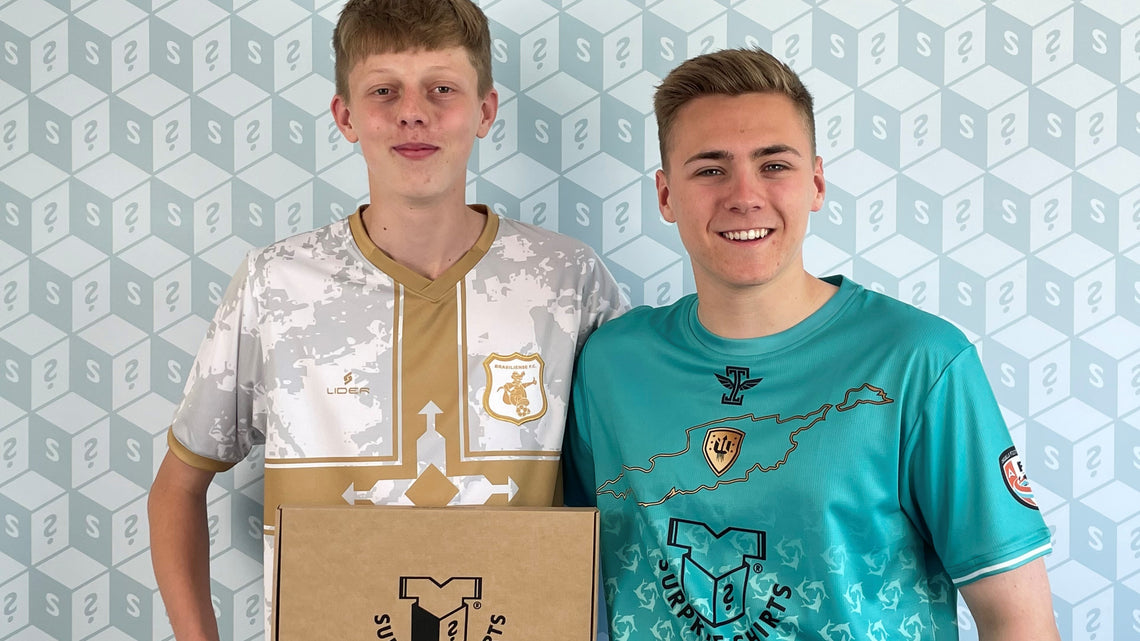 Surprise Shirts - Work Experience 2023!
Similarly to last year, the Surprise Shirts team were joined by a year 10 student, as a part of his work experience programme. This year we were joined by Oscar - nephew of Rob & Kellie & cousin to Louis, who came all the way from the Cotswolds to join the family business for a week! 
Here's what Oscar said about his time with us...
"For my work experience, I chose to join Surprise Shirts for the week. This was amazing for me as I am in love with football and love having unique and colourful football shirts in my collection. Seeing the different range of football shirts in different colours and patterns let me know I made the right decision!

Being part of the family (nephew/cousin) made me fit right in and having an understanding of the business pre work experience allowed me to start on the front foot. On my first day, I was taught the basics of the order process and the work behind the scenes and decisions made in completing each order.

Straight away I was allowed to start to help complete orders, being led step by step to make sure I would get it perfect every time! The process included looking at the shirts that the customer had previously received, any requirements that they would like to have e.g No red and white striped shirts if they were a Newcastle fan. This then allowed us to pick the most suited shirt for the customer. Being allowed to choose from a large array of shirts, it felt like Christmas had come early! It amazed me to see the difference in patterns and uniqueness of the shirts from all over the world, especially from shirts from smaller footballing countries such as India and Thailand.

I was given the chance to reply to customer queries and help communicate with competition winners via Twitter and email. I taken aback by the amount of engagement Surprise Shirts receive on Twitter and how much positive feedback there was. It proves why they are rated so highly on reviews.io, 4.9/5 star rating!

Being tasked with finding suppliers from all over the world was very interesting, finding teams in leagues that are unheard of and researching the best shirts in the entirety of Europe.
Surprise Shirts have many deals with football clubs, sponsoring many clubs and being main kit sponsors for two clubs - Uprising FC (a team in Anguilla) and Fairant Krakow (a team in Poland).

At the end of the week of my work experience, I gained a lot of knowledge and understanding on how to run a business, something I hope to do in the future, but also on how important amazing customer service is. This week has confirmed that setting up a business within football is what I'll look to do when I leave school."
- Oscar
It's been an absolute pleasure having Oscar join us. He's been that good, we're keen to have him back! You might just see him again in the Surprise Shirts office, when he's on his school holidays...
---